Earn Residual Income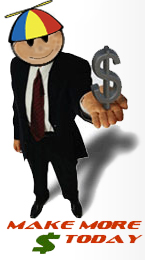 Earn Income from each and every account you refer to us via a customized link you send them to. Once they sign up and are active past the initial 45 days, you will receive a 35% revenue commission for each base hosting account that signs up AND renews for as long as your affiliate account is in good standing and the referred account remains active with us.
35% Commissions apply to all base hosting packages and 5% comissions apply these third party services: SiteLock, dedicated secure certificates ( TLS / SSL ), Weebly website builder, SpamExpert, and CodeGuard.
Once your commissions reach $50 (US), you can request a withdrawal or have it applied to your own account(s).
Web Designer?
Add PropellerHeadHosting's hosting services to your offerings without the hassle of handling the billing, server maintenance, etc. We can handle the technical platform details and the billing, while you keep your creative processes flowing for your clients and helping to grow their web successes. Give us a try if you are looking to add hosting services to your offerings, or expand with additional hosting partners.
Need Custom Plans or Billing?
If your services require custom plans and billing rates, we can setup custom plans and rates that you require for a small setup fee. While this is not white-labeled on the billing side, it will allow you to set the rates and addon features you need for any value-added services you provide in conjuntion with your client hosting options. Contact us if you have an idea you wish to pursue and we will gladly send you a quote for the customized plans and rates you desire.
Join Our Affiliate Program Today
Becoming an Affiliate is easy. Any current account can request that affiliate status be added to their account from inside our client portal. Others can join by requesting an account on our contact form.
Please also read our affiliate terms.