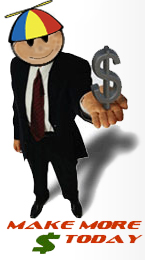 Are you looking for an exciting opportunity to earn extra income? Look no further than the Propellerhead Hosting affiliate program. Our program is designed to help you monetize your website and social media channels by promoting our fast, reliable, and affordable web hosting solutions.
Our hosting plans are designed to meet the needs of all types of websites, from bloggers and small business owners to large corporations and e-commerce platforms. With our advanced security features, powerful servers, and expert Level 3 Guru support, your audience can launch their website with confidence and stay online without any downtime.
By partnering with Propellerhead Hosting, you'll not only earn a 10% commission on each referral, but you'll also help your audience find the right hosting solution for their needs. We offer a wide range of hosting plans, including shared hosting, online store hosting, ecommerce hosting with payment processing, as well as additional services like website design.
Joining our affiliate program is easy and free. Simply sign up as an affiliate on our portal/website, grab your unique affiliate link or promotional materials, and start promoting Propellerhead Hosting to your audience. Promoting Propellerhead Hosting has never been easier.
Don't miss out on this opportunity to earn extra income and help your audience get the best web hosting services. Join the Propellerhead Hosting affiliate program today and start earning big!
Earn Recurring Income
Earn Income from each and every account you refer to us via a customized link you send them to. Once they sign up and are active past the initial 45 days, you will receive a 5% revenue commission for each base hosting account that signs up AND all subsequent renews for life, as long as your affiliate account is in good standing and the referred account remains active with us.
5% Commissions apply to all base hosting packages and also apply these third party services: NordVPN, Marketgoo, Xovi NOW, and OX App Suite.
Once your commissions reach $50 (US), you can request a withdrawal or have it applied to your own account(s).
Who Can Be Affiliates?
Affiliates can be anyone that wants to link to other services and sites they use or find interesting enough to mention to their clients and visitors. Here are some profiles of our affiliates:
Bloggers
Web Designers
Open Source Software (OSS) Projects
Online Stores
Social Media Influencers
B2B Service Providers
Service Companies
Software Developers
Rancher & Farmer Websites
Non-Profit Organizations
Open Source Software Projects ( OSS )
Monetize your Open Source software project. We are big supporters of open source software and are willing to host web sites for legitimate open source software projects for free, if you join our affiliate and promote our hosting services to your users as a project sponsor/supporter. PLUS we will double the recurring commissions on our hosting plans, from 10% to 20%. Please sign up as an affiliate and give us the details of your OSS project and how you will promote the sponsorship and we will gladly host your project's website and/or sponsor your OSS project as a hosting partner.
Web Designers
Recommend PropellerHeadHosting's hosting services and earn recurring income from your referred clients without the hassle of the handling the technical details, server maintenance, or even billing as an affiliate. We can handle the technical platform details and the billing, while you keep your creative processes flowing for your clients and helping to grow their web successes. Once you have referred at least 8 active clients we will increase your recurring commissions to 18% for future signups and renewals, even on the pre-existing referrals. Please sign up as an affiliate and give us a try if you are looking to add additional hosting services to your offerings.
Need Custom Hosting Plans, Rates or Billing?
If your services require custom plans and billing rates, we can setup custom plans and rates that you require. While this is not white-labeled on the billing side, it will allow you to set the rates and addon features you need for any value-added services you provide in conjunction with your client hosting recommendations. Contact us if you have an idea you wish to pursue and we will gladly send you a quote for the customized plans, pricing and commission rates you desire.
Join Our Affiliate Program Today
Becoming an Affiliate is easy. Any current account can request that affiliate status be added to their account from inside our client portal. All others can join by requesting an affiliate account on our contact form.
Please also review our affiliate terms or service.